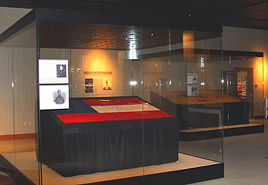 When was the last time that you were at the Army Heritage Center? Now is the time to visit this unique museum located in beautiful south central Pennsylvania. The Carlisle, PA museum recently took delivery of two very large Viewall® display cases installed by the talented technicians from Helmut Guenschel, Inc.
Each display case measures a whopping 10′ wide by 10′ deep and 8′ tall with clear white laminated safety glass and fiber optic lighting. These museum quality display cases are sealed against dust and feature a passive climate control system. The fiber optic lighting ensures that there is no heat transfer to the interior of these sealed environments.
The clear white laminated safety glass allows visitors to see the beauty of the flags without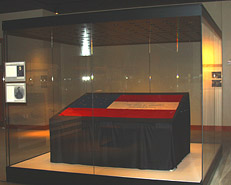 the greenish tint associated with regular glass and also protects the flags from harmful UV rays. Each display case features a pair of doors measuring five feet wide by eight feet tall that swing open effortlessly, providing a wide clear path that allows museum personnel to slide the flag display pedestals into the case.
Photo Credit: Army Heritage Museum, U.S. Army Heritage and Education Center, Army War College, Carlisle Barracks