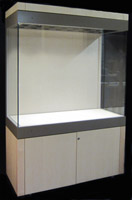 We recently completed the final delivery of display cases to the U.S. Army Ordnance School & Museum in Fort Lee, Virginia. The display solutions included table cases and wall standing display cases. The wall standing cases came in two flavors, one with locking storage below the exhibit space and one with locking pullout exhibit drawers supplied with lockable glass covers.
The table cases are built to last, featuring glass vitrines and strong slab end table bases. The glass vitrines feature mitered corners and clear UV cured joints providing an unobstructed view of the artifacts in the case. The fabric wrapped display decks offset the artifacts elegantly. Silicone seals ensure that dust infiltration is limited. The furniture quality slab end bases featured book matched maple veneer with a natural finish.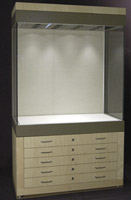 The wall standing display cases were equipped with fiber optic lighting, clear white laminated safety glass, dust seals and fabric wrapped display decks and back panels. The base portions feature the same furniture quality book matched maple veneer with a natural finish. The drawer fronts came out of hand selected sheets to ensure a continuous grain flow over the extent of the drawers.
The large single panel doors swing open effortlessly and smoothly providing an unrestricted access to the display space. Heat within the display area is eliminated through the use of fiber optic lighting that keeps the heat source located securely outside of the sealed display space. The natural linen wrapped panels provide an elegant and clean backdrop to the artifacts that will be stored within. Desiccant drawers are secured out of view providing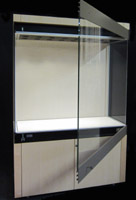 a balanced humidity level through out the display case. The passive system is both quiet and not dependent upon a power source to function.
Quality, conservation and security are the hallmark of Helmut Guenschel, Inc display solutions. Our display solutions are fabricated right here in the United States in Baltimore, MD ensuring that we do our part to keep the economy moving forward.