Let's say that you are looking for a trophy display case but you want something a bit cleaner looking than your run of the mill cases. What are your options? Continue reading and I will give you a tour of some HGI display case options as well as a Front system that will allow you to convert an existing space into a display space!
For starters, you need to decide where you want to locate your display case. Are you interested in flexibility? Do you want to be able to move the display case around? Are you looking to save floor space and rather have the custom display case hanging on the wall? How do you plan to light your display case? These are all questions that need to be considered. For starters, let us address the first few questions above.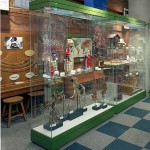 If you want flexibility and visibility all around a display case, then consider a free standing display case such as our Accession™ Series Free-standing. The Accession™ Series of free standing display cases is available with a glass top for natural lighting or a light box top with standard LED lighting or optional Fiber Optic lighting. Both offer UV free lighting. The LED lighting provides a wash of light where the Fiber Optic lighting choice provides more of a concentrated point of light. Accession™ Series cases feature cast in place seals reducing the chances of dust infiltration. If floor space is a premium then consider a wall mounted display case or a recessed wall mount display case.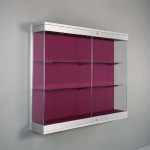 Our Vista™ line of wall display cases offer options such as wall mount, semi-recessed and recessed installations. Vista™ offers the HGI patented concealed hinge design allowing premium access to the display area. These display cases are available in several standard painted finishes with lighting options ranging from unlit, LED and Fiber Optic lighting. Custom colors and anodized finishes are available options. The shelving system features concealed shelf standards, shelf brackets and tempered glass shelves. Wall display cases are semi-permanent to permanent installations freeing up valuable floor space. Vista™ wall cases feature hinged doors so there is no unsightly overlapping glass, unsightly locks and glass sliding track typical of standard trophy cases. The locks are fully concealed where only a small hole is required to access the lock mechanism. Seal packages are available to reduce the problem of dust infiltration. If you like the clean look of the Vista™ wall display case product line but need to work within a budget, Vista™ Front component systems are just what you were looking for.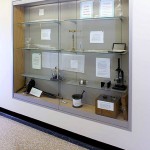 The Vista™ Front component system is a engineered door system that allows you to convert a niche in the wall into a display space. The Front family of component systems offer the same quality concealed hinges and high security locks that come standard on our Viewall® and Vista™ series display cases. Cost savings are realized because you fabricate the display box and install the door system like you would a window. Whether you are utilizing an existing space or working on a renovation project or new construction, HGI can fabricate a Vista™ Front system to fit your needs. Let your imagination run and contact us for a free quotation on any of the products discussed here today.
Stay tuned for our next article covering glass options when designing your next display case solution.
Accession™, Vista™ and Vista™ Front Component Systems can solve your trophy display case needs. Please call us at 800.852.2525 or email us at info@guenschel.com for your free design assistance and quote.